Bay Psalm Book geveild voor 14,2 miljoen dollar bij Sotheby's in New York
Een exemplaar van het zogeheten Bay Psalm Book, het eerste boek dat in 1640 in Amerika werd gedrukt, heeft gisteravond tijdens een veiling bij Sotheby's in New York 14,2 miljoen dollar opgebracht, 10,5 miljoen euro. Hoewel iets minder dan de vooraf verwachte minimum opbrengst, is het daarmee voorlopig het kostbaarste gedrukte boek ooit.
Sotheby's bracht het boek op 26 november ter veiling, auction N09039, met de volgende omschrijving:
For the first time since 1947, and only the second time since the nineteenth century, a copy of the first book printed in America will be sold at auction. The Whole Booke of Psalmes – universally known as The Bay Psalm Book – was produced in the virtual wilderness of Massachusetts Bay Colony by the Congregationalist Puritans who left England in search of religious freedom. A new poetical translation of the Psalms, intended to express the Hebrew original, was made by the leading scholars and ministers of colonial New England – John Cotton, Richard Mather and John Eliot among them – and the book was printed on a press sent, with paper and type, from England for that purpose by Stephen Daye, an indentured locksmith. From an edition of 1700 copies, just 11 survive. Of inestimable significance, The Bay Psalm Book is not simply one of the great icons of book history, it is one of the greatest artifacts of American history.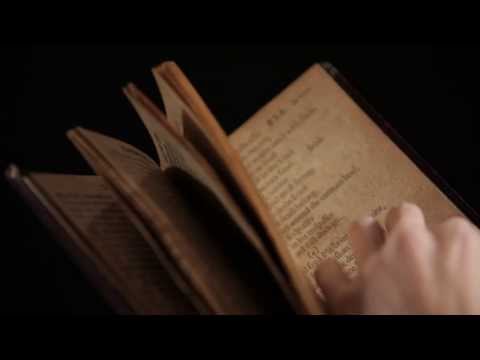 video SothebysTV, upload 15 nov 2013
Het boekje werd te koop aangeboden door de Old South Church in Boston. Deze kerk, gesticht in 1669, is nog in het bezit van één ander exemplaar. Van de 1700 exemplaren die werden gedrukt zijn er nog 11 over. De negen andere psalmboekjes zijn in het bezit van bibliotheken en universiteiten in de US. Eén exemplaar is in het bezit van de Bodleian Library in Oxford.
Twee keer eerder was er een exemplaar te koop van The Bay Psalm Book. In 1897 op de 'Brinley sale of Americana' waar het $ 1200,- opbracht, en in 1947 op een veiling in New York, waar het werd gekocht dor de Yale University voor $ 151,000,- ook toen een recordprijs.
Het boek is nu gekocht door de Amerikaanse zakenman en filantroop David Rubenstein, die het wil uitlenen aan bibliotheken door het hele land zodat ze het kunnen tentoonstellen.
---
---